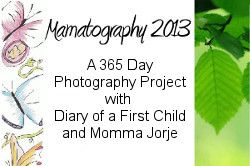 This post is part of the Mamatography 2013 Project with Diary of a First Child and Momma Jorje.
We are taking (at least) a photo a day to keep a record of our year. Join us at any point during the year and start sharing your own daily photos!
This week was full of change.  This week marked Daylight Savings Time Change so we lost an hour.  I love having the sun longer in the evenings.   The transition was tough this year because the time change coincided with my dude, the kids daddy, leaving town for work.  This was certainly a week full of change.
Day 64:  (3/7/13)
As we got closer to saying goodbye we spent as much time as we could together as a family.  On this day, I wanted to check out a new grocery store.  It was a bust and you can see that a certain someone was having a blast.  I'm teasing, he is a trooper and I love him.
Day 65:  (3/8/13)
This was an awesome day.  We went out on the river and explored a few islands.  Of course I left my camera in the truck.  So no beautiful pictures of dolphins, manatees, or children tromping through the 'jungle'.  Once we got back to the fish camp we continued having family fun.  Audrey loves the chickens!
Day 66:  (3/9/13)
No more morning cup of Joe.  My coffee has finally been replaced with tea.
Day 67:  (3/10/13)
Yay!  Time change and after dinner walks (& rides).
Day 68:  (3/11/13)
Ava looking for Nemo in the airport fish tank.  This change is not greeted as happily as time change.
Day 69:  (3/12/13)
Audrey finally ventured to the top of an indoor playground.  I really thought that I was going to have to go up and get her!
Day 70:  (3/13/13)
We always have a blast playing with some of our favorite friends.  We are so lucky they live only a few houses away.  Oh, and Alex loves being upside down.
Without further ado, here are the Mamatography 2013 participants!